Transform Your Business with the Power of Terpene Warehouse
In today's dynamic and evolving market, the right essence, flavor, and aromatic profile can be the defining factor that sets your brand apart. Enter Terpene Warehouse, the industry's premier provider of high-quality terpenes and botanical blends. Our expansive product range not only encapsulates the essence of nature's finest but also ensures that every sensory experience is unforgettable. From the most subtle notes of fruity freshness to the profound undertones of earthy richness, our meticulously crafted terpenes are a testament to nature's artistry and our unyielding commitment to excellence.
But Terpene Warehouse is more than just a provider; we are a partner in your brand's journey. Our unparalleled level of customer service means that from selection to implementation, our team is with you every step of the way, ensuring that the product you choose perfectly aligns with your vision and business objectives. We pride ourselves on being not just a supplier but an ally in your success, offering insights, guidance, and support that goes beyond the transactional.
Choose Terpene Warehouse and be assured that you are not only getting premium products but also a team that stands firmly behind them. Elevate your offerings, enchant your customers, and transform your business with the power and precision that only Terpene Warehouse can offer.
Terpene Warehouse & one supply inc.
We are thrilled to announce an exciting new partnership that is set to revolutionize the nutraceutical, natural health, and botanical industries. Our collaboration with One Supply, a leading provider of automation equipment and solutions, brings together unparalleled expertise and innovation to cater to the complex demands of these rapidly growing sectors. As the go-to destination for state-of-the-art technology and cutting-edge solutions, One Supply's dedication to excellence is transforming the landscape of these industries, driving efficiency, and promoting sustainable growth. Join us as we embark on this journey to redefine the future of nutraceuticals, natural health products, and botanicals, delivering game-changing solutions and elevating standards across the board
Terpene Warehouse & ONE SUPPLY Inc.
automation equipment
Terpene Warehouse and One Supply Inc. are the ideal selections for enterprises seeking premier automation equipment and solutions.
view equipment
WHO USES TERPENES?
Forbes News
The significance of terpenes is becoming more apparent See article in Forbes magazine.
Terpenes, being the glue that binds the cannabinoids to the receptors in our endocannabinoid system, are what determines the psychoactive and medicinal effects of the various strains. 
Terpenes are not just for beloved flower? For thousands of years, before modern medicine, people from all over the world have used plants and their high-terpene natural oils to treat a variety of conditions. 5000 years ago in ancient India, over 700 plants and their uses were documented, the ancient Egyptians used it in the making of topical healing ointments, medicated oils, and healing perfumes, and of course the most popular use of terpenes until today, has been in perfumery.
Terpenes are oil and alcohol soluble, they can be added to a variety of products, such as beverages, edibles, tinctures, tablets, extracts, vape cartridges, diffusers, candles, body care products, and more. 
When properly used and with the correct blend, terpenes can not only enhance the taste and/or fragrance of your products, but also provide the same proposed effects and holistic benefits that your herbs and other plants have been found to have. At Terpene Warehouse we are strict about using only all-natural ingredients in all of our blends. After all, all-natural has worked for our ancestors for over 5000 years and we'd like to keep true to the tradition.
Our mission is to incorporate the standards and practices of the existing terpene/aroma industry with the burgeoning botanical terpene space, by sourcing the highest purity, food-grade, ingredients from the top and most trusted suppliers.
Why Choose
Terpene warehouse
Terpene Warehouse offers 100% ALL NATURAL UNDILUTED FOOD GRADE TERPENES. Our blends are the result of a thorough research. For years these blends have been tweaked until we have reached a perfect result.
Our passion for providing pure flavor ingredients and blends, is a guarantee that our products will always be of unparalleled quality and price.
Shop our effect based blends
What are
terpenes?
Terpenes play a key role in differentiating the effects of various strains. Some terpenes promote relaxation and stress-relief, while others promote focus and acuity. Terpenes are aromatic oils that color the varieties of flower with distinctive flavors like citrus, berry, mint, and pine.
Over 100 different terpenes have been identified in our beloved plant, and every strain tends toward a unique terpene type and composition. In other words, a strain like Orange Kush and its descendants will likely have a discernible Citrus like smell, and Blueberry offspring often inherit the smell of berries.
The diverse palate of the flowers flavors are impressive enough, but arguably the most fascinating characteristic of terpenes is their ability to interact synergistically with other compounds in the plant.
How do
terpenes help my product?
Due to their volatility, many of the terpenes responsible for a plant's unique aroma and taste are lost during mechanical processing, leaving a product of inferior enjoyability and efficacy. This issue can be remedied by reintroducing a proper blend of terpenes to your product.
If you are looking to emulate the most popular strains and flavors; our strain-specific blends and terpene blends plus+ will enhance the fragrance, flavor, and effect of a variety of products, by coupling our adherence to the principles of aromatic chemistry and blending practices, commonly utilized by aromatherapists and perfumers. 
Pro Mixing Tips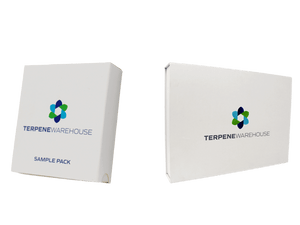 Terpene warehouse disclaimer
This information is for educational purposes only, it is not intended to treat, cure, prevent or, diagnose any disease or condition. Nor is it intended to prescribe in any way. This information is for educational purposes only and may not be complete, nor may its data be accurate.

As with all essential oils, never use them undiluted. Do not take internally unless working with a qualified and expert practitioner. Keep away from children. If applying an essential oil to your skin always perform a small patch test to an insensitive part of the body (after you have properly diluted the oil in an appropriate carrier.)